You have unique qualities for a potential employer, making you the perfect candidate for the job. However, putting your experience and education down in a resume may not be easy for you. Professional resume writers in Michigan are available to write your targeted resume and help you secure the job you seek. It's not necessarily the most 'qualified' candidate that'll land the job — it's the most prepared.
What Should a Resume Include?
How do you prepare a resume in the most accurate fashion? Don't simply list your duties. List your accomplishments. Why are your achievements unique? What separates you from the other candidates? Your reason for submitting a resume is to give the company a solid understanding of your background and qualifications. If a prospective employer reads a resume that stands out from the rest, you improve the odds of an invitation to interview. On the flip side, if you turn in a sloppy resume that doesn't highlight your strongest accomplishments, you may not get the opportunity to discuss your professional merits.
A resume in the 21st century starts with a professional profile, and this is usually written in a brief paragraph format. The idea is to provide a readable summary of your qualifications related to the job for which you are applying. It is important to mention the skills you possess that set you apart from the rest of the candidates. You want to highlight those unique qualifications, backing them up within the content of your resume. This exemplifies your experience and educational background.
What are the Steps to a Marketable Resume?
The professional resume writers in our Michigan offices are proficient, and their work is customized for each client. We specialize in crafting strategic resumes that guide the reader toward experiences that are relevant to the target position, allowing you the best possible chance for obtaining the interview. We implement the most current best practices in the employment market with respect to resume writing and interview preparation. Our goal is to accentuate the positive aspects of your technical experience so that you fit the requirements the prospective employer needs for his or her company.
Your personalized resume will be formulated according to what our professional resume writers in Michigan learn from your consultation. Once the initial evaluation is complete, your resume will then be ready for approval after a detailed quality control process of editing and review.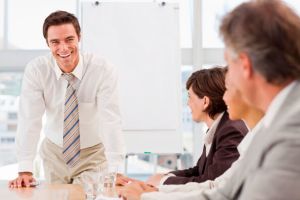 Vertical Media Solutions serves clients across the national employment market, delivering powerful presentations of their best qualities. Our professional resume writers in Michigan not only write your documents, but consult you on how to reduce the number of red flags you fly as a candidate. Salary negotiation recommendations and interview preparation are also available. Call us today for a no-obligation consultation to learn how we can help you: 616-631-4300.