While many job seekers diligently review daily job postings, it is estimated that up to 80% of jobs are never even advertised. This hidden job market relies on networking and referrals to quickly and efficiently fill positions. That leaves many wondering how to tap into the hidden job market. Finding these hidden job openings requires you to change the way you think about finding a job.
Group Networking Works
One of the best ways to gain access to the hidden job market is by joining a local job networking group. Choose a group that contains people of your same professional caliber. For example: if you seek an executive level position, make sure the networking group consists of executives and not recent college grads. As you participate, remember that you can provide insightful advice for others in their job search as well. Don't just look for others to help you out; give them the benefit of your experience, too. Another way to ramp up your networking is through online groups, such as those on LinkedIn. Connect with former coworkers and other professionals you have met through business. Maintain communication with these people even after getting a job. This active network will help you learn about new job openings that may help you move up the career ladder.
Go Straight to the Source
One problem with applying to advertised positions is that your resume typically goes to human resources along with thousands of others. A smarter move is to contact the hiring manager directly. Start by researching the manager using LinkedIn and the company's website. These venues might provide a direct email, either professional or personal, with which to contact them. Look through your current LinkedIn connections to see if anyone is already connected to the manager. If so, ask your connection for an introduction. When expressing your job interest, use targeted language that explains your accomplishments and the value that you bring to the table. Don't just let them know that you are looking for a job.
Recruit Help
Working with a professional recruiter who has experience in your field is also extremely valuable in learning how to tap into the hidden job market. Instead of simply submitting your resume to them, research the recruiting company just as you do an employer and find an individual contact. Your goal is to get a short telephone conversation with the recruiter to impress them with your skills. When working with a recruiter, be flexible with your job requirements. Job seekers who have reasonable salary expectations, are willing to relocate, and are motivated to change jobs, are considered the most placeable candidates, garnering more attention from recruiters.
Conferences and Trade Shows
Attending industry conferences and trade shows is one of the most efficient ways to meet new contacts at companies and learn about job openings. While this approach can get expensive, aim for at least one per year, or opt for smaller regional trade shows with lower costs. Chat employees up about the company and talk about your knowledge of their product or shared business acquaintances. Look the company up online and read news articles and press releases to help guide your conversation. Then, ask them about whether any of the company's departments are hiring. These individuals may be able to give you insight into when a new job will open up before human resources even knows.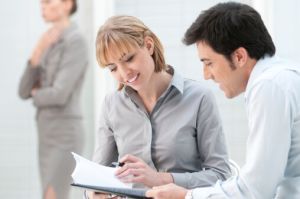 Whether you live in Michigan or around the country, the professional resume writers at Vertical Media Solutions can guide you toward a successful career move. Our personalized employment services help you identify opportunity and network more effectively. Learn how we can help today: 616-631-4300.