Job seekers often labor over their resumes, editing and revising them until they reach perfection. However, they sometimes don't put as much effort into crafting a well-written cover letter. These two documents go hand-in-hand to present a comprehensive overview of the candidate. In fact, a cover letter can sometimes be even more important than a resume.
Just How Important is a Cover Letter With Your Resume?
If time-strapped companies only want to quickly scan a candidate's qualifications, then just how important is a cover letter with your resume? Cover letters are the company's first interaction with job candidates, which is why it's important that they create a good first impression. In addition, when companies receive hundreds of resumes for a single opening, they often seek ways to eliminate some. The cover letter is often the determining factor and can move a candidate forward in the hiring process or immediately eliminate them from contention.
Skip Generic Form Letters
Some candidates use a general cover letter for each resume they submit, changing only the person or company that it is addressed to. This is definitely the easy approach, as many sample form letters exist. However, it is also the lazy approach and is often as damaging as not including one at all. Generic cover letters don't reveal information about the candidate and don't tell an employer why they should hire them. Although rewriting the cover letter each time takes effort, this effort pays off.
Targeting Cover Letters
While the cover letter allows candidates to reveal a little of their personality, it shouldn't be a biography. In fact, the main point of a cover letter is to reiterate the points that are in the job advertisement. Start by writing down these main points and skills. Then, explain how you have used them in your previous work history. Make sure to include any specific terminology or software terms mentioned in the ad. Some recruiters and companies use resume scanning software that looks for these specific words to sort out the most qualified applicants.
Overcome Deficiencies
Cover letters also allow candidates to discuss topics that aren't appropriate for a resume. One of these areas is weaknesses or lack of skills. If a job requires a skill that a candidate does not possess, addressing it in the cover letter is key. Explain that you possess similar skills and feel that you can come up to speed quickly. This shows the employer that you aren't ignoring the requirements and prompts them to discuss the issue with you further in person.
Sell Your Candidacy From the Beginning
Understand that your resume and cover letter are tools used to encourage invitations to interview. Therefore, make sure to introduce yourself in the best possible light by investing the time to write a cover letter that is focused toward the requirements of the position. Remember: this is your opportunity to get your foot in the door. How you present yourself is a good indicator of how you might represent the company if they decide to hire you.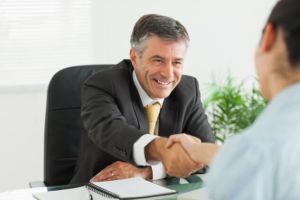 Whether you live in Michigan or around the country, the certified professional resume writers at Vertical Media Solutions can guide you toward a successful career move. Our personalized cover letter writing services are designed to deliver a powerful presentation of your professionalism and qualifications. Learn how we can help today: 616-631-4300.