Landing a job interview often makes job seekers breathe a huge sigh of relief. However, crafting an intriguing and well-written resume is only half the battle. When it comes to the interview, interpersonal skills are just as important as technical abilities and experience. Many qualified individuals don't interview well and fail to get hired. A job interview coaching service is a valuable investment that can help you prepare for that next big step.
Benefits of Using A Job Interview Coaching Service
Professional coaching services offer many benefits for job seekers, many of which they may not even consider. These certified experts perform practice interviews with the candidate and provide valuable feedback on what they did correct and what needs improvement. Coaching services offer many other benefits as well.
They practice different interview techniques so that candidates are prepared to adapt to any approach the interviewer takes.
They provide guidance on the candidate's demeanor. Specifically, they assess whether you appear focused and confident or unsure and nervous.
They have experience with a wide variety of industries and companies. They may have even worked with the company you are interviewing with.
They can help you identify mistakes that you don't even know you are making.
They can assist in drafting a list of technical questions prior to meeting with the employer to assist you in appearing interested and knowledgeable.
Help in Defending Weaknesses
One aspect of most interviews is a discussion of the candidate's weaknesses. A coaching service can assist with this often challenging topic by helping you counter weakness in the most appropriate manner. Candidates can talk through their weaknesses with a coach who will help them determine which ones to bring up and which ones to avoid. This is particularly important in behavioral interviews, where the goal is to assess your response to the question rather than the answer itself.
Appearance Assessment
Another area where a coach can provide valuable feedback is regarding a candidate's appearance and personality. They can critique your attire choice and provide suggestions on how to appear stronger or more pulled together. They can also advise on proper clothing choices for more casual job interview settings. In addition, you can receive honest feedback on areas related to your personality. Things such as a strong handshake and direct eye contact all make a big difference in how interviewers perceive you. These factors all combine to define what employers call a likability factor and can make or break the interview.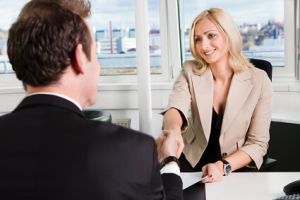 Whether you live in Michigan or around the country, the employment consultants at Vertical Media Solutions can guide you toward a successful career move. Our personalized interview coaching services are designed to improve your confidence and put your best foot forward. Learn how we can help today: 616-631-4300.