How To Find A Job After Graduating From College
Finding a job after graduating from college can be challenging. The truth is, having the right tools will reduce the time it takes to land your first real job. This is where a professional resume and cover letter can make the difference between waiting around, and securing an invitation to interview.
Employers want to know if you've had any relevant experience, beyond the theoretical scenarios, that are taught in the classroom.  Maybe you volunteered, or completed an internship – this information can be leveraged to persuade an employer to interview you.  Search for connections between the technical expectations of your target job, and previous positions that you've held.
Take a measured approach to your job seeking strategy. Track and analyze the results of your chosen delivery method, and be prepared to adjust this after 30 days. As a new graduate, you should highlight the advantages of hiring a fresh candidate like yourself.
Prepare a professional resume and cover letter – the average candidate submits an average to poor resume. Your employment documents are a direct representation of yourself, and more importantly, how you'd represent your perspective employer. Show the hiring manager that you know how to present yourself in a polished way.
Verbalize the desire to be taught, trained, and mentored.  Your lack of hands-on experience may work to your advantage, if you posture yourself correctly. Consider the fact that you aren't bringing 'bad habits' from your tenure with a similar company.  Make it clear that you are excited about the idea of learning and adapting, to become whatever they need you to be.
Embrace technology without putting all of your eggs in one basket.  Use LinkedIn, Job boards, direct application methods, and attend job fairs to locate opportunities.  You may also want to speak with your previous professors, and ask for referrals.
Maintain proper grooming – this may seem obvious. Always dress one level above the position that you are interviewing for.  This is also applicable if you intend to hand-deliver your resume and cover letter.  Your first impression is key when you meet a potential employer.
Amplify The Advantages of Hiring a Less Experienced Candidate
Finding your first job may sound like a daunting task, but remain positive and maximize the value you offer.  As an up-and-coming candidate, you furnish flexibility, willingness to be molded into an ideal fit, and you don't require top-end salary.  A new hire is an investment; help mitigate the risk by expressing your interest in a long-term opportunity.  Your future employer wants to know you don't plan to use them as a stepping-stone. Keep your focus on finding the right fit, both technically, and culturally – 2013 is the year you'll find your perfect job.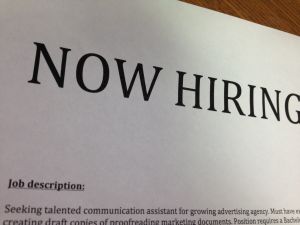 It's not always the most qualified candidate that is chosen for the job, it's the most prepared.  Start your career search with the advantage of a professional resume and cover letter.  Vertical Media Solutions is a specialized division of The Stephen J Group that provides professional resume and cv writing services that get results.  We are located in Grand Rapids and Lansing, Michigan, so give us a call today: 616-631-4300 or 517-308-0800.